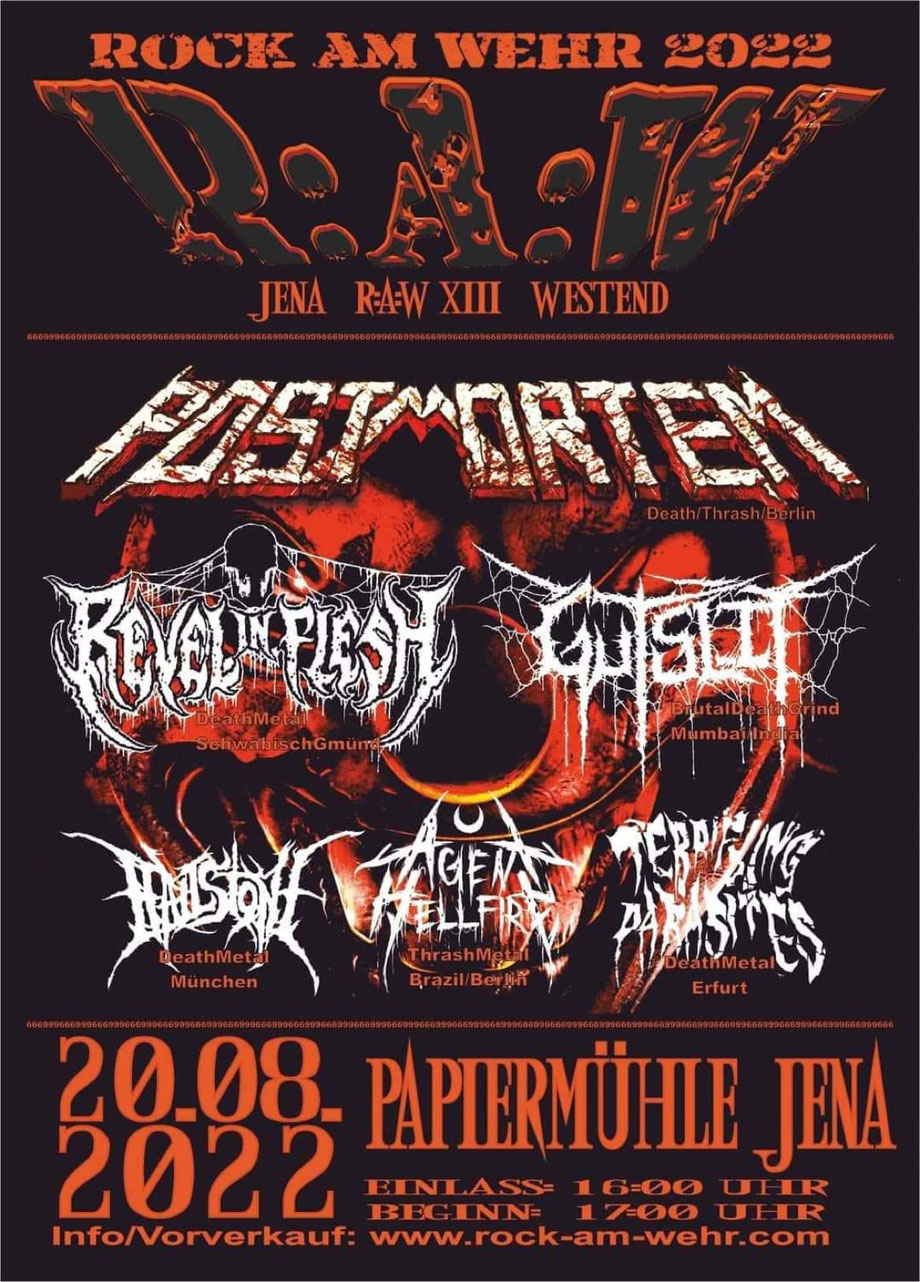 ---
We're back in Northern Germany! We will conquer Vechta, Niedersachsen with some harsh death metal-tunes. This will be part of the second leg of DESERTED FEAR's album release tour across Germany. The final tour dates are:
28.04.2022 - Kesselhaus, Wiesbaden w\ DESERTED FEAR
29.04.2022 - Turock, Essen  w\ DESERTED FEAR and Daemonesq
30.04.2022 - Gulfhauf, Vechta w\ DESERTED FEAR and Aeon Of Disease
---
Merchlab Kiel provided us with some new limted shirts. Our new white shirts with red print are available at our store, now.
---
Hey folks,
two new dates with almighty DESERTED FEAR have been added to our concert-list.
28.04. in Wiesbaden and 29.04. in Essen. This gonna be two great nights with our friends!
---
---
A new year often brings unforeseen changes and unfortunately this time we have been hit by such changes as well. We sadly have to announce that our drummer Jakob has decided to leave Hailstone due to professional reasons. Jakob joined us in 2013 and since then has been our clockwork behind the drums. We part in good faith and wish Jakob only the best for his future path, be it professional or private! We therefore are looking for a new drummer ASAP! Are you totally into Death Metal, old enough to drive a car but young enough to take the next plan to China for a gig? Are you eager to play live, release a new album, no stranger to clicktracks and do you have a knack for songwriting? Then drop us a message under hailstonemunich@gmail.com! Despite the above, we are more than happy to announce that our long-term friend Tom (see pic) from German thrashers Hollowed will be supporting us on our upcoming tour shows with Deserted Fear and we are greatly looking forward to the shows! Do come out and support the shows if the tour hits a city near you!
---
We're excited to announce that we team up with Deserted Fear for a mini tour across Germany.
There will be new songs, new merch and loads of beer!
More information soon!
---
---
---
---
We were very shocked to hear that our former bandmate and dear friend Christian Kratzer died in a tragic accident.
We will always fondly remember the times we had together on tour, making music or just having a lot of fun.
The world has lost a great musician and a wonderful person.
Our thoughts go out to your family, to all your friends and to your bandmates from Thulcandra.
We will miss you dearly,
Bastian, Daniel, Hansi and Jakob
---
As already explained the last time, we are very sorry to announce that our show with Entombed at the Backstage in Munich is cancelled as well. We hope that the situation will improve soon and that we can continue performing on stage.
---
Due to the situation regarding the Corona virus we unfortunately have to cancel our show in Fürstenfeldbruck on Saturday, March 14. We'll keep you posted on the status of our remaining shows.
---
Hello metalheads!
We took a few weeks of winter break during which we started writing some new material.
Coming out of our hiatus we are proud to announce some awesome new gigs.
Check them out in the concerts section of the homepage!
---
We have cool new buttons with our album art available in our shop. They come with a bottle opener on the back side. Buy them for 1,50€ or get one for free for each purchase of 20€ or more!
---
This weekend we are back in Czechia for a rematch. If you are living near Mlada Boleslav or have the chance to go there, come see us on Saturday, Oct. 23rd. We'll see you there!
---
Get stoked for the release party for the new album by Ad Nemori. We will play alongside Ad Nemori, Waldgeflüster and Knaat at the Orangehouse at Feierwerk, Munich, on Friday, October 18th. We are looking forward to seeing you there!
---
Thanks to everyone at Metalheadz Village last weekend! We had a lot of fun. Everything went smoothly and everyone had a great time. We would be happy to come back!
---
Thanks to everyone at Mlada Boleslav for a great evening and a fun time! Check out some photos taken at the venue by Milan Vicha on our Facebook page.
---
Good news, everyone! We have more of the shirts with our very popular Jesus theme. Check them out in our store before they're all gone!
---
The warm up party for the Bavarian Battle Open Air at the Born To Rock club in Munich is coming up on Saturday, May 25. Check out the event at their facebook entry.
You can get a special coupon by simply writing an email to hailstonemunich@gmail.com. With this coupon you can save 4€ on the entrance fee for the warm up party. So get them while they're hot!
---
We've just gotten in some more of our Catacombs shirts. They are now available in all sizes from M to 3XL again. Get them while they're hot!
---
We are all sold out of our Catacombs zippers, but there are still tons of cool merchandise items available in our shop. Get them while they're still there!
---
Check out our new merchandise in our shop! We have new girlie shirts and tanks as well as hoodies, each with our logo on them. Get them while they're still fresh!
---
Thanks to everyone at 8below in Munich. As usual, everything was organized very well and we had a great time. Also, huge shoutouts to Divide who stepped in on a short notice and totally rocked the house!
---
Huge shoutouts to the Club From Hell in Erfurt and to the Juze Peiting for a great weekend! We had a lot of fun and everything went very smoothly. We'd be very happy to play at those locations again.
If you couldn't come see us last weekend, make sure to come by 8Below in Munich to watch our show on Friday, March 29.
---
We've got new apparel for you. Check out our new Hailstone beanies in our shop. Get them while they're still hot!
---
In the following weeks, we'll be playing a couple of gigs. Come see us at From Hell in Erfurt on Friday, March 22, where we will play alongside Illdisposed and Path of Destiny or on Saturday, March 23, at the Juze in Peiting alongside Splicer and Libation. One week later, on Friday, March 29, you can see us at the Friday Madness Party at 8Below in Munich with the great talents of Divide. Stay tuned for more information in our Concerts section. We're looking forward to seeing you at one of the events and having a great time!
---
Our second album, Epitome is finally available on several digital platforms again. You can listen to the album for free on Spotify, Amazon Unlimited and similar services or you can buy a digital copy at CDBaby.
Now you can listen to Epitome whenever and wherever you want!
---
In September, Hailstone is proud to get the chance to play in Mlada Boleslav in Czechia. More details on this gig will follow soon. You will see all the details in our concerts section.
---
We wish all you metalheads out there a happy new year 2019!
We would like to give huge shoutouts to everyone involved in the Metallic X-Mas event at the end of the previous year. It was a great success and we had a lot of fun playing there and meeting everyone.
Coming up in the new year, we will play a bunch more shows around Germany, starting this weekend in Kaiserslautern. Check out our new live schedule in the Concerts section of the homepage.
See you very soon at a location of your preference!
---
On December 26th we're proud to have the opportunity to play at the Metallic X-Mas 2018 at Backstage Werk. Check out the recently published running order of the event!
Join us at the end of December to enjoy Christmas with a variety of awesome metal bands.
Get your tickets while they are still available!
---
Check out this awesome video from our trip to the Meltdown Festival and to Denmark!
---
Huge thanks to everyone involved in the Metal im Woid Festival! We had a really nice time playing at this great event. Everything went very smoothly and everyone was perfectly organized and friendly.
We would be honored to play at this festival again.
---
Thank you to everyone at the Meltdown Festival in Schuby! We had a great time, everything was very well organized and the audience was amazing!
Stay tuned for some impressions of the festival coming soon.
---
On Wednesday, 26 December 2018, we'll be playing at the Metallic Xmas show at the Backstage Werk in Munich. We'll perform alongside Onkel Tom Angelripper, Nocturnal and other great bands. So get your tickets now and don't miss this awesome event!
---
Iridum Stream recorded the opening track of our show at the Bavarian Battle Open Air 2018. Enjoy this professional, multi-cam video.
Big props to Iridum Stream and Sick Of Sound Studios.
---
Thank you for a very successful festival! Great bands, great organization and a very relaxed athmosphere!
We're grateful to have been part of this event!
---
For christmas we've got something special for you: We've just ordered a batch of awesome zippers!
They are limited in number, so pre-order your zipper now! The zippers will be shipped starting December 22nd, 2017.
Make sure you make use of our end-of-the-year-special: Order your zipper by December 31st, 2017, and you only pay 30€ plus shipping!!!
Get them while they're hot!